the always chic sarah of classy girls wear pearls
one of my favorite parts of fall is pulling on a pair of tall boots. whether paired with a dress and tights, or with jeans and a cozy sweater, the look is quintessential to the season, and classic to boot (ha - see what i did there? i'm sorry.)
as i mentioned yesterday, an exciting part of my weekend was a long-awaited investment in some new boots! i have had a fabulous pair of tall brown leather boots from banana republic for about five years now, and they are simply the best, though they are starting to get a little worn, which i love for weekends but not as much for work.
i am a bit picky about boots: i have muscular legs, thanks to years of rowing, so i am always concerned about how the calf area fits, and i really don't like lots of hardware. i also prefer boots that pull on and don't have zippers, and i prefer flat boots because i walk so much. as you can see, i had some very narrow criteria, and i didn't even mention that i would prefer not to spend half of a month's rent on the right pair!
after (literally) years of searching for the perfect pair of tall black leather boots, i have finally found them:
behold,
the booker buckle boot from j.crew
!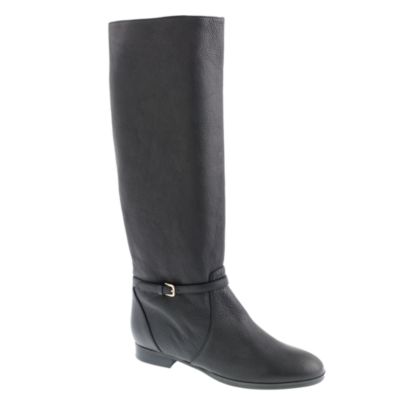 i love the delicate hardware detail, they pull on, and the styling is clean, classic equestrian.
of course, they are only available online so i had to find a j.crew store that had tall boots in stock (a harder task than i thought!) to try on the
regular booker boots
to check on that pesky calf sizing issue. turns out the fit is great, though i did order a half size larger to better accommodate thick socks and tights.
the best part? i had a 25% off coupon :)
i can't wait to wear them with, well, everything this fall! after i waterproof them, that is!