happy monday!
after a scorcher this weekend i am pleased to report that it was a mere 63 degrees when i went out for my run this morning!
much of my weekend was spent puttering around the apartment, and i am pleased to say that i have solved our bathroom storage conundrum!
as you can tell from these pictures, the room is an odd shape and the only storage is a built-in medicine cabinet, which is not very substantial.
please ignore my awkward photo stance in the mirror!
i really don't care for those over-toilet storage units, and i am hesitant to put a heavy wall shelf in that brick wall, given that it is over 100 years old!
all i wanted was a tall open shelf to fit in the corner between the toilet and the wall that could be fitted with baskets for toiletries, ideally in brass and glass to go with the bathroom hardware.
i googled and searched every possible place i could think of (i really should add a "sources" tab to my menu bar, because at this point i think i have some incredible knowledge that should be shared!) and the only things i found that fit my mental image were crazy expensive, or the wrong size, or a combination of both. i even tried to expand my ideal to include a wooden shelf, but those were rather pricey as well ($150 for this, ikea? really?) le sigh.
then, by some miracle, the perfect piece appeared on craigslist. steel with glass shelves, five feet high, 13 inches wide, and all it needed was some paint!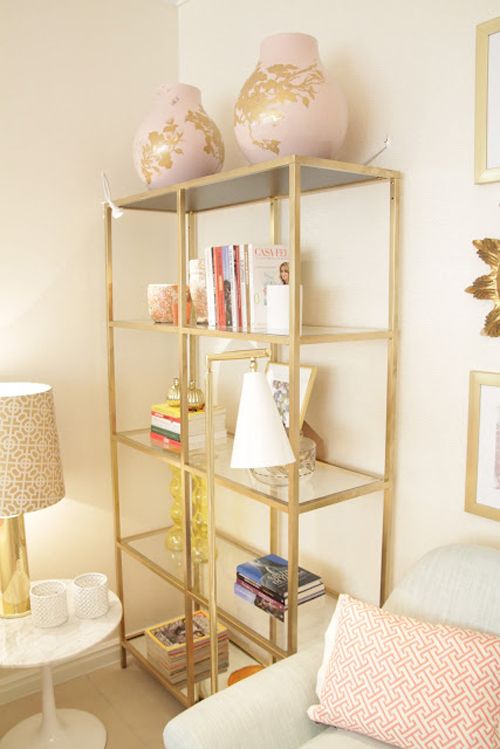 it's incredible what a little spray paint can do! i am not ready to fully reveal the transformation until i get the storage baskets in place (
exposed
toiletries are not pretty!) but here is a sneak peek:
sidenote: the stainless steel trash can also got the midas touch!