happy monday! hope everyone enjoyed the weekend and the start of the olympics!
our party was a great success, although a bit chaotic to start because i was held up at work and didn't get home until 7:30 with guests due to arrive at 8!
unfortunately, i have no photos - between last minute prep and mingling, i was not a great photographer - but i did learn a few things!
+ i have an inner italian/jewish grandmother that is terrified there won't be enough food. there was PLENTY.
+ dvr is the greatest invention of all time: i re-watched the opening ceremonies saturday afternoon!
on the subject of the opening ceremonies, i was absolutely blown away by the beauty of the torch. the individual copper petals were stunning, and the effect of each piece coming together to form the larger olympic cauldron was spectacular!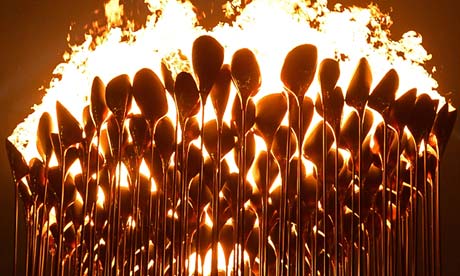 fun fact: the cauldron is codenamed betty, after the executive producer's dog!
the hammered and polished organic shape of each petal is so lovely; in fact, there are a lot of jewelry pieces that pick up on that aesthetic:
piperlime has some great, cheaper options too! check them out
here
.